UN Sustainable Development Goal #5: Gender Equality
Tampons and pads–along with dozens of other period products–are a medical necessity that half the population must acquire a dozen times a year. Public policy, however, is behind in this discovery. Legislators are only starting to lift the sales tax on period products. The cost of periods can pose a problem to anyone's ability to live with dignity. Not to mention, poor menstrual hygiene affects all aspects of well-being. So what can be done?
---
What is menstruation?
Although you may have a basic idea of what menstruation is, this biological process can be glazed over in health classrooms. Take a few minutes to test your knowledge on menstruation:
Symptoms of menstruation:
Abdominal cramping
Headaches
Food cravings
Bloating
Fatigue
Sore breasts
Lower back pain
PMS (Premenstrual Syndrome): As you know from the quiz, this doesn't affect everybody, but the symptoms (like breakouts, cramping, swelling, and tenderness) can all indicate the arrival of a period.
---
Reproductive System Overview (and Menstruation)
The female reproductive system is complex. It involves the hypothalamus, the pituitary gland, ovaries, and the uterus.
The hypothalamus is located in the brain and releases gonadotropin hormones (GnRH). This simulates the pituitary gland–located at the base of the brain–to produce follicle-stimulating hormones (FSH) which starts development of the eggs. Another hormone in the pituitary gland (called the luteinizing hormone, also known as LH) helps mature the egg and release the eggs from the ovary.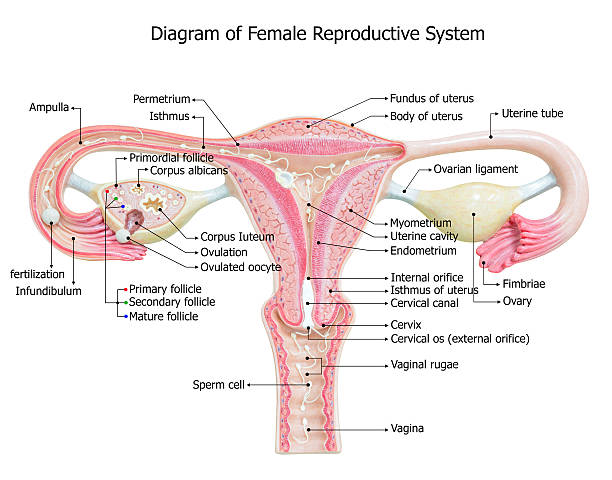 Now that we are at the ovary, we can discuss its main functions. Ovaries contain millions (millions!) of immature eggs. The eggs start to mature when the amount of FSH and LH increase (with puberty) which starts the growth of ovarian follicles, small sacs of fluid. Follicles contain a single egg. As follicles grow, the number of estrogen levels in the blood will rise. When the levels are high enough, then ovulation takes place, which is when the mature eggs are released. The mature follicles can start to prepare the lining of the uterus (for implantation of the egg) by creating a good environment for the fertilized egg to grow.
Now, we have made it to the uterus! The lining of the uterus, also called the endometrium, will create a bed, but only if the egg is fertilized! If the egg is not fertilized, then the lining will shed and the egg will die. The shedding is menstruation in action!
There are four phases in the menstrual cycle: the menstrual, follicular, ovulation, and luteal phases. However, these are all overlapping phases–they don't appear in the order that is mentioned above. The menstrual phase is when you get your period and the thickened lining of the uterus is shed through the vagina. Some folks have longer periods than others, so it can last for less or more than a week. The follicular phase starts on the first day of your period (confusing but there is some overlap!) and ends when you ovulate. It can last for up to 16 days. Ovulation is your pituitary gland releases LH so your ovary releases the mature egg. This egg travels down the fallopian tube towards the uterus to be fertilized by sperm. (The ovulation phase is also the point in your period where one can get pregnant! Yes, it is possible to get pregnant during a period.) The luteal phase is when the follicle releases the egg and it changes into a corpus luteum. What's that? The luteum is a structure in the ovary that releases hormones whch keep the uterus lining thick for the egg to be implanted, but if the egg isn't fertilized, then the luteum will simply shrink away. This causes the onset of a period because the lining will shed.
Menstrual Irregularities
Sometimes periods can be irregular, meaning that the duration of the period varies abnormally or doesn't occur at all. Let's look at a few possible causes:
Stress: Hormones are an integral part of the menstrual cycle. Thus, emotional stress, such as depression or anxiety, and physical stress on the body, such as rapid weight loss/gain, can affect period flow and duration.
Pregnancy: When an egg is fertilized and attaches to the uterus lining, this begins a pregnancy. There may be light bleeding during pregnancy, but it's not like a regular period.
Menopause: This is natural during the 40s and 50s. Periods stop permanently.
Polycystic Ovary Syndrome (PCOS): When more male than female hormones are produced by the adrenal glands (above the kidney), this is the cause of PCOS. It can result in skipped periods and can decrease fertility.
Uterine Fibroids: Growths (not cancerous) in the wall of the uterus and while the cause is unknown, it causes a lot of lower back pain and menstrual irregularities.
Thyroid Problems: The thyroid is a gland in the neck that regulates the body's functions, like the menstrual cycle. Excess production of thyroid hormones can make periods very heavy.
Endometriosis: The uterus lining is called the endometrium. Endometriosis is when the tissue that lines the uterus grows outside the uterus, like the ovaries and fallopian tubes. Periods can be incredibly painful.
Cervical and endometrial cancer: Can cause vaginal bleeding between periods and heavy periods, bleeding and discharge during/after intercourse, pelvic pain, etc.
---
The Burden of the Tampon Tax
What is the so-called tampon tax and what are its effects?
Commercial pads and tampons are purposely more expensive because of import and sales tax. Ultimately, it taxes folks for their anatomy and physiology. But this is out of anyone's control. The tampon tax, more generally known as the pink tax, doesn't refer to just the tax on tampons, but a sales tax on all menstrual products. One of the reasons that so many people are upset is because things like toothpaste and shampoo–both of which are hygiene products–and other health supplies do not include a sales tax, but menstrual products still do. Simply put, it's unfair.
Currently, Minnesota, Illinois, Pennsylvania, New York, Massachusetts, Maryland, New Jersey, Connecticut and Florida have all eliminated the tampon tax.
Homeless women, non-binary folks, and trans men may use unsanitary materials such as plastic bags, old rags, newspaper, dried leaves, shirts, cotton balls, or socks because of the period expenses involved. There are many dangers of using unsanitary materials. Risks include:
Yeast infections: This results in inflammation and vaginal discharge due to an overgrowth of yeast in the vagina. Unsanitary or non-FDA approved products can cause rashes and create a breeding ground for yeast and bacteria.
Reproductive Tract infections (RTIs): This occurs with the growth of organisms in the female reproductive tract (ovaries, uterus, cervix, vagina). This can result in abnormal vaginal discharge, itching, burning feeling when urinating, etc.
Urinary Tract infections (UTIs): It is very similar to reproductive RTIs. The urethra–a small tube–carries urine from the bladder to the outside. Bacteria in the vagina can sometimes can moved up the urethra which causes the infection. This can result in a burning feeling when urinating, pain in the abdomen, fever, fatigue, etc.
Infertility: Although it is less common, it can still occur from unsanitary period products and not changing products out regularly. Non-FDA approved pads and tampons can have ingredients that can cause a build up of toxins (chemicals that are used for fragrance and other residues) and the vagina stores these chemicals. Infertility means one cannot get pregnant and these chemicals can decrease the number of healthy, mature eggs.
Toxic Shock Syndrome (TSS): Fatal condition linked to super-absorbent tampons. It results from toxin build up and these toxins are produced by the overgrowth of Staph bacteria. It can progress rapidly and result in death. Long-term exposure to the same tampon can often be something that homeless folks deal with, especially if they cannot afford new tampons.
The average box of tampons (~36 tampons) costs around $7 at Walgreens, not including taxes. Depending on your flow and income, things can really start to add up. Check out this Tampon Tax Calculator to find out how much you've spent or someone you know has spent so far on menstrual products.
Around 14% of girls and women live below the poverty line. This disparity is most evident and strongest during the menstruating years (which varies anywhere from 12-52 years). However, many government welfare programs, such as Medicaid, do not provide these items, although they are the most needed and requested by these age groups.
---
Let's Talk!
I had a conversation with my mother and sister about their experiences with menstruation, as they have their period once a month, and their opinions on the tampon tax. I thought it would be important to include a person's perspective from another generation and their thoughts on menstrual equity. (What is menstrual equity? Menstrual equity means equal access to reproductive health education and period products.) Here was the end result:
---
Taking Action
By now you may be wondering what you can do in your local community to help alleviate this conflict. I've listed some steps to follow (in no particular order):
Read to help jump start your advocacy efforts. If you understand the context, it makes it a lot easier to understand what you are advocating. Knowledge is power. Here a few good book recommendations:
Weiss-Wolf gives a detailed explanation of period equity and how menstruation is viewed as taboo. She talks about the way menstruation affects the public and private lives of women, trans men, and non-binary people. Weiss and a lawyer—Laura Strausfeld–both worked together to form Period Equity, an organization that works on legislation to combat the tampon tax.
I wanted to include an equally as important second book by Okamoto. The book discusses how access to safe menstrual care products in the homeless community is limited and how this inspired her own (Okamoto's) nonprofit called PERIOD.
If you're not a huge book reader, read the #PeriodPower blog on how to break the taboo and stigma surrounding periods.
Once you have built up a comprehensive education on menstrual rights, you can get involved in the action! If you have social media, this is a great way to raise awareness using some hashtags like #MenstrualEquity and #FreePeriods. You can follow many Twitter handles, like @GirlsGlobe.
A chapter is a group of people that raise awareness, distribute period products, and host fundraisers in their schools. If you haven't already done so, you can join or create a chapter in your community using the Period Chapter Application Form. You will gain access to a toolkit that will help you jumpstart your chapter. This is a good way to start working locally through your school and get your friends involved. You can also email taia@period.org on more ways to get started.
After you've created a chapter, host a packing party. A packing party involves stamping bags, pads, tampons, other hygiene products, and sending them to vulnerable populations in your community. For more information on how to host a packing party, visit period.org.
Create a Give Lively account to start your own fundraising page.
Talk to your local representative. Whether we like it or not, periods are political. Send your Senator or Representative a letter. Click to see an example.
Sign the national petition to end period poverty in schools. Your signature will be among the several that the US Department of Education will see. Currently, we have over 44,000 signatures.
The 28th of May is World Menstrual Hygiene Day! Join an informative session close to you and find out what you can do.
You are well on your way to becoming a period champion. If you were able to do any one of these things or if you already have done at least one of the things I mentioned, let me know how it went in the comments! I'd love to know your impact, no matter how big or small.
Menstrual products are NOT a luxury, they are a necessity. If you have any other questions or comments, I'd love to hear!
Tweet #Menstrualequity