Introduction
The Correlation of Chronic Illness and Mental Health
Essentially, physical health and mental health fundamentally coincide with one another. Patients with chronic conditions must adjust their lifestyle, and many may grieve about their circumstance before moving on, while others go on to stay distressed and develop psychiatric disorders. Research evidence consistently demonstrates that people with long-term conditions are two to three times more likely to experience mental health problems than the general population (Naylor). At the same time, people living with serious mental illness are at a higher risk for a wide range of chronic physical conditions ("The Relation."). That being said, this project focuses on the development of mental disorders, mainly depression, as a result of chronic illness. This correlation can lead to incredibly poorer health outcomes and reduced quality of life. As the medical control of chronic diseases assumes an important role in healthcare delivery, the significance in recognizing mental illnesses becomes even more vital as there are emotional dimensions of chronic illness that need to be considered. For example, people living with chronic respiratory diseases and diabetes experience elevated rates of anxiety and depression ("The Relation."). These coexisting mental health problems can result in poor self-care practices, contributing to the exacerbation of symptoms and deterioration of both physical and mental health.
Why is this Important?
As it turns out, chronic disease is a highly prevalent dilemma being faced worldwide in addition to the United States.
According to Miles Ayling, the Director of Innovation and Service Improvement from the Department of Health, the "increasing prevalence of long term conditions is the biggest challenge facing the [National Health Service] now and for the future." With such widespread instances and prevalence of chronic illness, the mental health implications simply cannot be ignored. However, it can be very difficult to diagnose depression in the medically ill as physical symptoms can often correspond with depressive symptoms, and treatment for medical conditions can also affect the patient's mood (Turner). Despite these challenges, it is absolutely necessary to diagnose and treat depression in people with chronic conditions. Even mild depression can still lessen a person's motivation to seek medical care and lead to unhealthy coping skills when it comes to their chronic illness, resulting in the overall decline of effective functioning. With the high pervasiveness of chronic illness as seen in the charts above, it is even more crucial to be aware of the mental health ramifications that can be induced.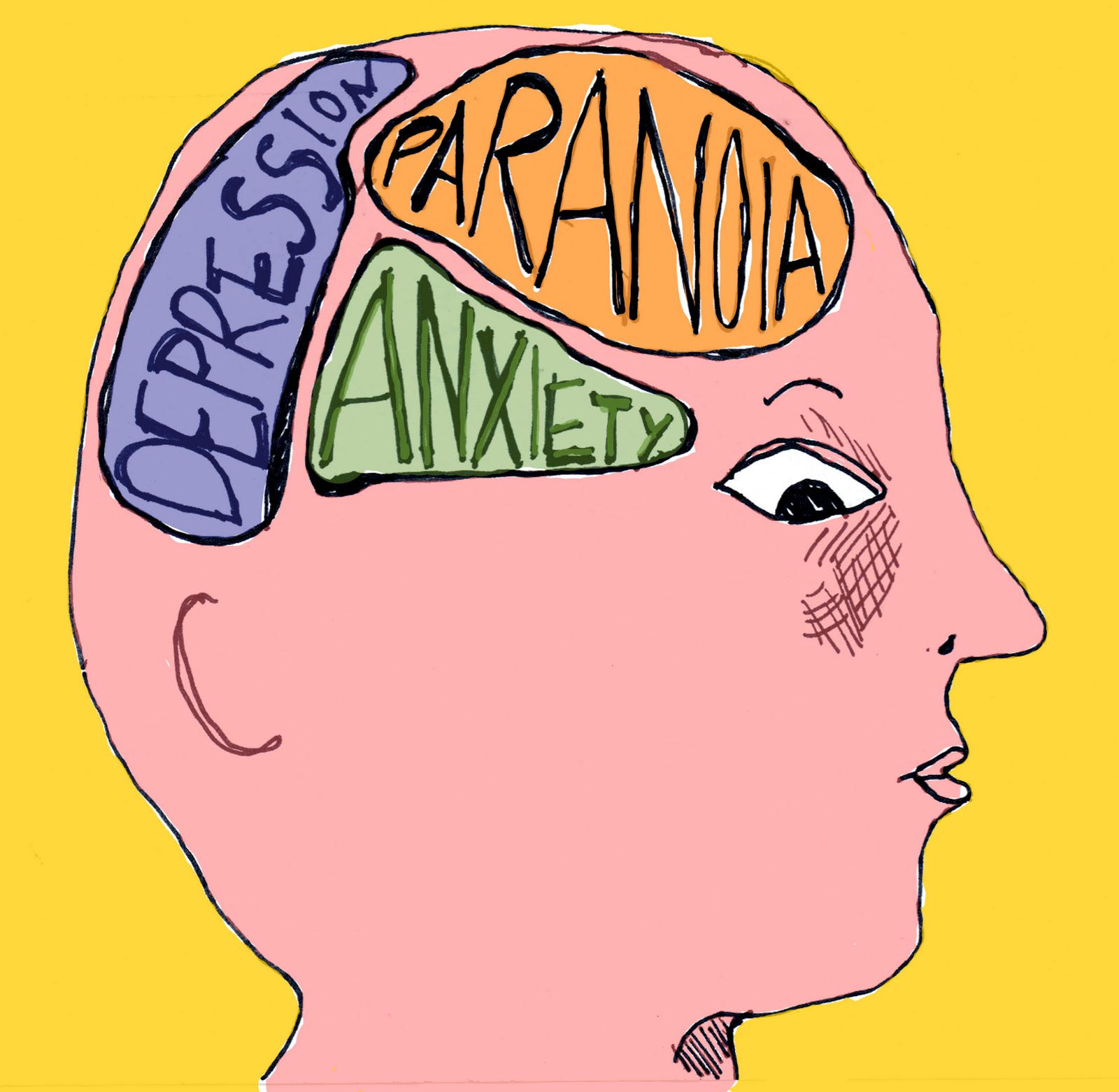 The Problem with Physician Competency
Physicians play an important part in helping their patients manage their medical conditions and maintain healthy coping skills. However, unfortunately the emotional aspects of chronic diseases are too often overlooked when biomedical care is considered. In some cases, clinicians find it difficult to differentiate between an adjustment reaction to an illness and distress due to a depressive disorder (Turner). Furthermore, in a 2012 study concerning primary care physician perceptions, most physicians felt that in treating patients with mental illness they were often operating beyond the scope of their training. Regarding the American healthcare system's lack of mental health resources, fragmentation of care, and clinic procedures, the physicians expressed great frustration; these obstacles add on to "their own lack of medical knowledge, clinical experience, and communication skills in treating mental illness" (Loeb). As someone with chronic health problems and experience pertaining to the US healthcare system, one recurring feature I noticed was that my doctor's main objective for each visit was just to prescribe the drugs that seemed to fit my symptoms, and when it failed, a new one. Although prescribing medication is part of her job, she failed to acknowledge or ask about my mental well-being, which was falling apart without my realization. When a patient with chronic illness becomes emotionally distressed, they are more susceptible to developing new symptoms, in addition to aggravating their established illness; a good example is the development of pseudoseizures in patients with epilepsy (Turner). If physicians were more capable of recognizing the social emotional parts to treatment, other adverse consequences in coping with chronic illness may be mitigated and assuaged.
Systemic Issues
Before going further, I want to acknowledge that physician competency is most definitely not the only obstacle in combatting mental illness in chronically diseased patients, however it is something that should definitely be improved upon within the healthcare system. If this exploration were to be taken further, other components such as socio-economic determinants, basic healthcare access, lack of emotional support, and expanding the focus to a worldwide perspective, not just the US, should be taken into account. My proposed solution to helping those with chronic illness and mental instability is only possible when assuming that patients have access to healthcare in the first place.
Solving this Issue
My proposed solution to this issue stems from an interview I conducted with Dr. Jon Herzenberg, a clinical psychologist and also ironically my school principal at the American School in Japan. From working in schools to locked facilities and juvenile court diversion programs, Dr. Herzenberg has extensive experience providing therapy in an emphasis area of children, family, and teens. He has additionally also supported people with chronic conditions struggling with their mental health and agrees with the notion that "Western medicine really traditionally looks at the physical and then the mental as separate…[with] one being a priority and the other being secondary." With this concept in mind, one approach to the goal of helping people with both chronic illness and mental distress as a result is simply highlighting that both are a priority for treatment. The way to go about enforcing this understanding would be for substantial training of medical physicians when it comes to patient interaction. In the study published by the Journal of General Internal Medicine, health care providers expressed a lack of confidence in medical knowledge and experience involved in treating mental illness. But at the same time, some felt that improved communication skills could benefit. Dr. Herzenberg also acknowledges how "practitioners of medicine really need comprehensive training, and not just a bedside manner, but beyond that: a real awareness around how to listen to patients and not just their symptoms." Really establishing the idea of the importance of humanity and compassion in conjunction with the technicalities of biomedical care to physicians can really aid patients with debilitating diseases in coping and living a quality life.
As Dr. Herzenberg affirms, there are so many predictable feelings that accompany a long-term physical illness. If you were to be diagnosed with a life-altering disease, "there's got to be a sense of fear and anxiety and lack of control and unpredictability and fear of 'is this going to be the way it is forever now' and so there's a sense of loss and shame and guilt" and it goes on and on. Clinicians should ideally reflect on the emotional dimensions of their work and be aware of what their patients may be feeling. Even a set of guided questions for physician-patient interaction may help provoke the recognition of the onset of depression or anxiety symptoms.
In the end, a huge part of this resolution is derived from basic empathetic communication. It may be difficult to employ at first, but with proper training and effort in medical practitioners, great strides can be made in the aspect of effectively enabling a happier life for those with debilitating chronic and mental conditions.
Works Cited
Ayling, Miles. "Long Term Conditions Compendium Of Information Third Edition – PDF." docplayer.net/4253637-Long-term-conditions-compendium-of-information-third-edition.html N. p., 2019. Web. 16 Apr. 2019.
"Chronic Disease Archives – Memd Blog." MeMD Blog. N. p., 2018. Web. 16 Apr. 2019.
Herzenberg, Jon. Personal Interview. 12 April 2019.
Loeb, Danielle F. et al. "Primary Care Physician Perceptions On Caring For Complex Patients With Medical And Mental Illness." Journal of General Internal Medicine 27.8 (2012): 945-952. Web. 16 Apr. 2019.
"Mental Health Clipart – Clip Art Library." Clipart-library.com. N. p., 2019. Web. 16 Apr. 2019.
Naylor, Chris, et al. "Long-term Conditions and Mental Health: the Cost of Co-morbidities." The King's Fund, February 2012, kingsfund.org.uk/sites/default/files/field/field_publication_file/long-term-conditions-mental-health-cost-comorbidities-naylor-feb12.pdf
"The Relationship Between Mental Health, Mental Illness And Chronic Physical Conditions." ontario.cmha.ca/documents/the-relationship-between-mental-health-mental-illness-and-chronic-physical-conditions/ N. p., 2019. Web. 16 Apr. 2019.
Turner Jane, Kelly Brian. "Emotional Dimensions Of Chronic Disease." Western Journal of Medicine 172.2 (2000): 124. Web. 16 Apr. 2019.
Yach D, et al. "The Global Burden Of Chronic Diseases: Overcoming Impediments To Prevention And Control. – Pubmed – NCBI ." Ncbi.nlm.nih.gov. N. p., 2019. Web. 16 Apr. 2019.