Click HERE to take survey!https://docs.google.com/forms/d/e/1FAIpQLScK8IsaIzZcG-7hcYAtED2HHuBFQ6EDaOxAhlanVF08IQRZnQ/viewform?usp=sf_link
Problem: The proven link between insufficient sexual education and the rate of teenage pregnancies in the United States.
Teenage Pregnancy in the United States
Despite the fact that the United States teen birth rate reached an all-time low in 2016, approximately 57.4 per 1,000 teens aged from 15-19 become pregnant each year (Parenthood). To be clear, there is absolutely nothing shameful about being teenage mother. However, it is concerning that 75 percent of teen pregnancies are unplanned, and that those unplanned pregnancy rates for teens have been strongly correlated with the sexual education system in America (Frost).
The United States currently has the highest rate of teenage pregnancies in the developed world, and the problem lies with the education system (Abstinence-Only Education)(The State of Sexual Education). Lack of comprehensive sexual education in schools, abstinence-only sexual education, and medically inaccurate sexual education courses are not sufficient in properly educating teens on safe sex, and have a strong correlation with unplanned teenage pregnancies.

Sexual Education: The Legal Requirements
Lack of proper sexual education in schools greatly contributes to the problem of teen pregnancy, but some schools are not required to teach sex ed at all. As of 2016, state laws dictate that only 24 states in America, including the District of Columbia, are required to provide sexual education in public high schools (Evidence Based Policies). Only 20 of these states require that the sexual education provided by schools must be deemed as "medically accurate", meaning that the sexual education curriculum must "follow information that published authorities upon which medical professionals rely" (Evidence Based Policies).

The Evidence
A medical study regarding teenage pregnancy rates in the United States and the issues correlation with sexual education summarizes the evidence: "After accounting for other factors, the national data show that the incidence of teenage pregnancies and births remain positively correlated with the degree of abstinence education across states: The more strongly abstinence is emphasized in state laws and policies, the higher the average teenage pregnancy and birth rate. States that taught comprehensive sex and/or HIV education and covered abstinence along with contraception and condom use… tended to have the lowest teen pregnancy rates" (Abstinence-Only Education).
The Impacts of Teen Pregnancies

Unexpected teenage pregnancies lead to an increased risk of dropping out of high school, and they are more likely to fall below the poverty line (Teen Pregnancy Prevention). Additionally, the children are more likely to have health and social issues, are at an increased risk of facing the correctional system, and are more likely to become teenage parents themselves (Teen Pregnancy Prevention).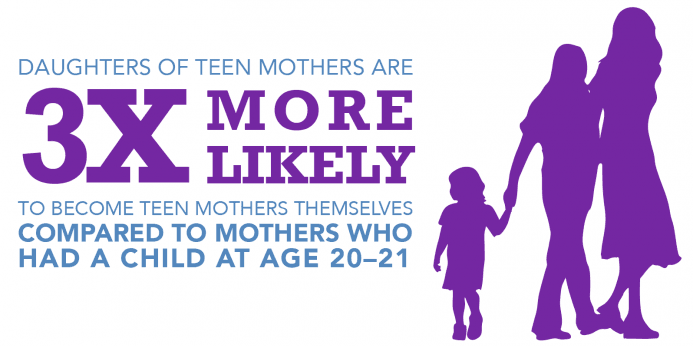 The Value of Comprehensive Sexual Education
Educating teens on the use of condoms and birth control, and how to protect themselves from STDs is proven to reduce the levels of teen pregnancies, and helps to ensure that teens understand what it means to practice having safe sex (Abstinence-Only Education). Raising awareness on this issue and providing resources to teens and parents on how to have conversations about sexual education, practice safe sex, and providing resources for pregnant teens is key.

What You Can Do
Having open conversations and publicly promoting resources to those without comprehensive sexual education is important. Below are links to websites that have information on practicing safe sex, frequently asked questions about sex, and resources for teens who are pregnant.
In addition to this, promoting the discussion of this topic in schools, at home, and with friends in a safe way can greatly benefit the community. Hanging up these posters on community boards, at schools, and discussing the topic in safe spaces will raise awareness!
Resources to Share!
https://www.healthyteennetwork.org/teens/resources-pregnant-parenting-teens/
https://siecus.org/wp-content/uploads/2018/07/CSE-Federal-Factsheet-May-2018-FINAL.pdf
Works Cited:
"Evidence-Based Policies to Prevent Teen Pregnancy ." National Conference of State Legislatures , Apr. 2016, www.ncsl.org/documents/health/lb_2416.pdf.
Frost, Jennifer J, et al. "Contraceptive Needs and Services, 2014 Update." Guttmacher Institute, 20 Apr. 2018, www.guttmacher.org/report/contraceptive-needs-and-services-2014-update.
Hall, Kelli Stidham, et al. "The State of Sex Education in the United States." The Journal of Adolescent Health : Official Publication of the Society for Adolescent Medicine, U.S. National Library of Medicine, June 2016, www.ncbi.nlm.nih.gov/pmc/articles/PMC5426905/.
Parenthood, Planned. "State of Sex Education in USA | Health Education in Schools." Planned Parenthood, www.plannedparenthood.org/learn/for-educators/whats-state-sex-education-us.
"Let's Talk." Planned Parenthood, www.plannedparenthood.org/about-us/newsroom/campaigns/lets-talk-month.
"Reducing Teenage Pregnancy." Planned Parenthood, www.plannedparenthood.org/uploads/filer_public/94/d7/94d748c6-5be0-4765-9d38-b1b90d16a254/reducing_teen_pregnancy.pdf.

"Red Silhouette ." Center for Disease Control, www.cdc.gov/winnablebattles/report/teenPregnancy.html.
"Teen Pregnancy Statistic." Mississippi State Department of Health, msdh.ms.gov/msdhsite/_static/44,0,363.html.
Stanger-Hall, Kathrin F, and David W Hall. "Abstinence-Only Education and Teen Pregnancy Rates: Why We Need Comprehensive Sex Education in the U.S." PloS One, Public Library of Science, Oct. 2011, www.ncbi.nlm.nih.gov/pmc/articles/PMC3194801/.
"Teen Pregnancy Prevention Program: A Case Study in Evidence-Based Policymaking." National Conference of State Legislatures , 2016, www.ncsl.org/research/health/teen-pregnancy-prevention-program-a-case-study-in-evidence-based-policymaking.aspx.